I am beyond blessed and grateful for all the well wishes, congratulations and
business I received from the most amazing customers at our
Yarn Tasting & Dinner event AND Local Yarn Store Day!
Whether you visited the store, shopped online, shared a social media post or simply wished me success I appreciate YOU!
I will continue to strive to do the very best I can for you
as YOU help this LYS grow and grow!
Thank you. Truly, from my heart, thank you!


---
Spring and Summer hours will begin May 1st!
---
All are welcome! This
Stitch Nite
is going to be so much FUN!
---
ESTIVA
Have you seen my Instagram or Facebook posts about Berroco Estiva?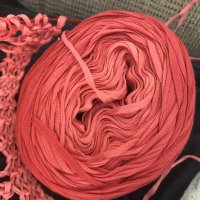 Estiva is a cotton tape yarn. It is very easy to work and is light and soft.
I love the texture and how quick the project moves along!

Many of you fell in love with this yarn at the Yarn Tasting & Dinner Event.
Let me tell you...I am obsessed with this yarn!
The yarn is a long gradient yarn and you will adore the gorgeous colors for spring and summer.
I've cast on the Liri Shawl, a FREE pattern from Berroco! It takes just ONE skein of Estiva!
I love how all of the Estiva patterns take into account the gradient effect of the yarn.
The patterns tell you from which end to begin so that your knit or crochet will look like the pattern.
Genius, right?
I also love this crocheted bag, Magra, perfect for summer! I'll be crocheting this beauty soon!

Click on the links below to see all of the colors of Estiva and the available patterns from Berroco!
ESTIVA
ESTIVA PATTERNS from Berroco
---
Check out our website for new arrivals, top sellers, and sale items!
These emails will give you the best and most recent information you need!
Keep in touch with us by visiting our website!