Summer activities are winding down, kids are headed back to school
and many are awaiting the arrival of fall!

At Bluefield Yarn Company we are enjoying the last days of August
and we are gearing up for a fun and fabulous fall!

Read on to find out about upcoming events, new products
and a few new policy changes for the shop.


---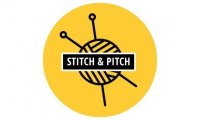 STITCH N' PITCH
There is still time to purchase your ticket for our Stitch N' Pitch Event on Tuesday, August 20 at 6 pm.
Join us for a fun evening of Bluefield Blue Jays baseball
and crochet, knitting and stitching!
Click

HERE

to get all the details!
Anyone interested in throwing out the first pitch?
YARN TASTING, BRUNCH & TRUNK SHOW

You are invited to attend Bluefield Yarn Company's
Fall Yarn Tasting, Brunch and Trunk Show!
Enjoy a delightful brunch on on the verandah of Bluefield Inn
deliciously prepared by Kitt, the owner (and a knitter) of Bluefield Inn.

You will have the opportunity to knit and crochet with yarns from
Anzula, Malabrigo, Manos del Uraguay, and Big Bad Wool.
After the fun at Bluefield Inn we will head to the shop
where you can enjoy the Big Bad Wool Trunk Show and SHOP!

This event is for both knitters and crocheters!

I hope you can join us! Please click

HERE

for the complete details!


---
NEW PRODUCTS

New yarns, notions and tools and accessories are arriving weekly.
Below you will find a list and links to the product page of each new treasure!

Malabrigo Rios
A hand-dyed worsted weight yarn in a variety of gorgeous colors!



Madelinetosh Tosh Merino Light


New and beautiful modern colors



ClotheZure


Hold shawls, scarves and sweaters in place with the ingenious closures. One of my favorite new products!



Yarn Valet Yarn Bowl


Another new favorite! Portable, durable, doesn't slip and so easy to tuck in your project bag.



Uneek Worsted


Gorgeous, self striping yarn in a worsted weight! Check out my Shifted Shawl sample in the shop!



New Kits

and

Yarn Colors

from Appalachian Baby
An adorable baby bib kit and the Sweet Dreams Blanket plus two new yarn colors!

Coco Knits Split Ring Markers
If you crochet you are going to love these markers! These will be available on the website on Friday.

There is so much more - just ask "What's new?"

---

Updated Shop Policies

I've thought long and hard about this next bit of information.

Many costs associated with running a business continue to rise.
Most notably impacting Bluefield Yarn Company is the cost associated
with credit card fees and the cost of printer ink.

Effective August 15th I am implementing the following policies:



Please also take the time to read the policy regarding private lessons and classes.
These policies are not new, they have been in place since the shop has opened.
You can read them HERE

I appreciate your understanding and more importantly
I appreciate your continued support of Bluefield Yarn Company!


---
COMING SOON - LAY AWAY!
Are you wishing you could get all the yarn you need for one project without worrying
about the upfront cost of the yarn or having to wait
and wondering if your favorite yarn or color will be gone!

Introducing LAY AWAY!
I am still working out the details but I hope to have LAY AWAY up and running by September.
I hope this is something that will encourage you to try new projects and new yarns!
---
Check out our website for new arrivals, top sellers, and sale items!
These emails will give you the best and most recent information you need!
Keep in touch with us by visiting our website!